This salad is so crunchy and so satisfying. Wonderful as a meal, side dish or a late night snack.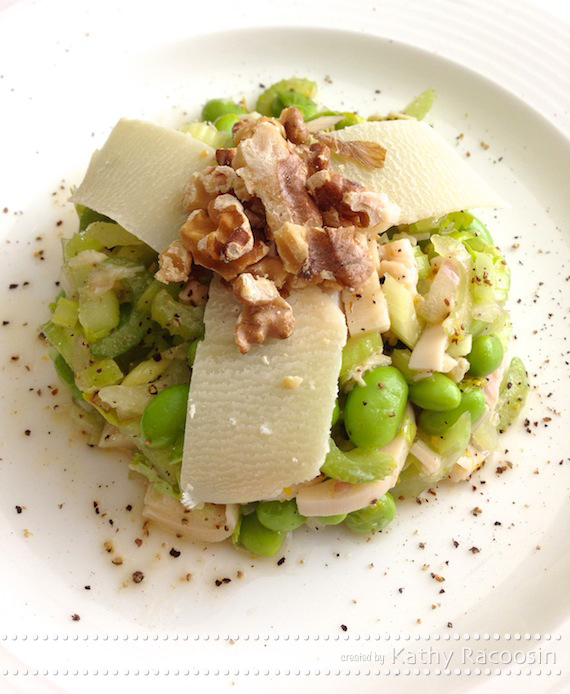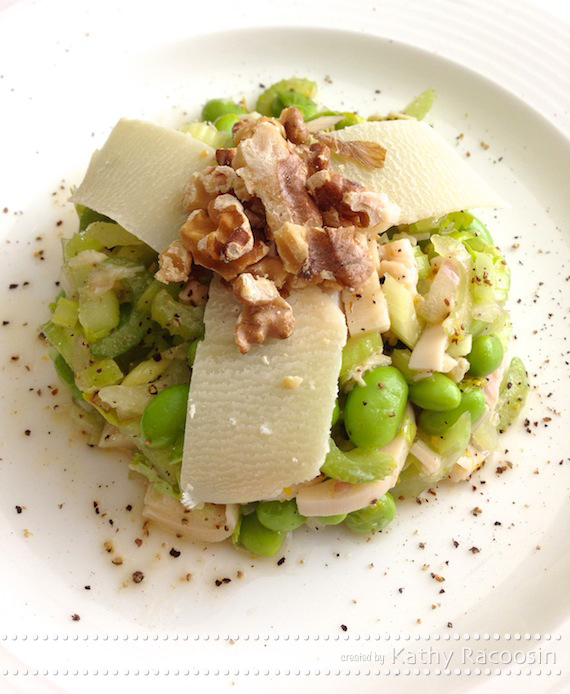 Celery Salad
2013-04-11 21:46:51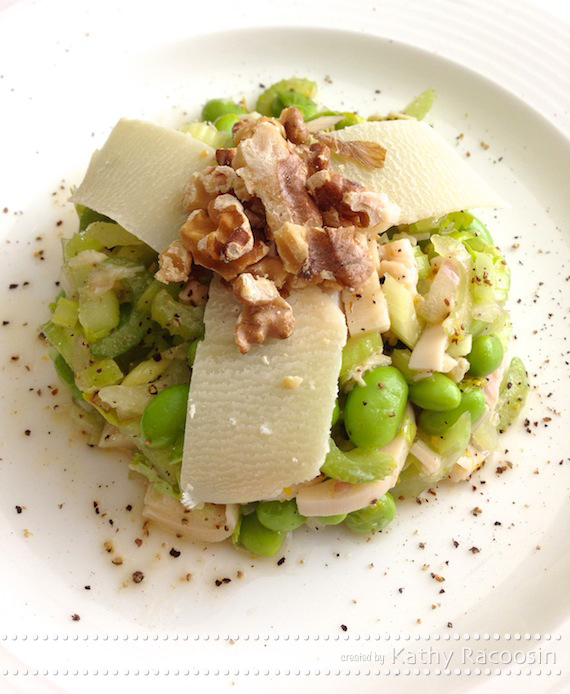 Ingredients
1/2 cup good olive oil
2 tsp. grated lemon zest
1/4 cup plus 1 TBS freshly squeezed lemon juice (about 3 lemons)
2 tbs minced shallots
1 tsp celery seed
1/2 tsp celery salt
1/2 tsp anchovy paste
1 cup edamame
5 cups thinly sliced celery hearts, tender leaves included (slice at an angle, about 12 stalks)
4 oz. chunk of aged parmesan cheese
2/3 cup toasted walnuts, coarsely chopped
1 can hearts of palm, (thinly sliced at an angle)
2 endive hearts, sliced thin crosswise
salt & pepper
Instructions
Whisk together the olive oil, lemon zest, 1/4 cup of lemon juice, the shallots, celery seed, celery salt, anchovy paste, 2 tsp. of salt, & 1 tsp. of pepper. Set aside. Place the celery in a mixing bowl & toss with remaining 1 tbs of lemon juice & 1/2 tsp salt. Cover and refrigerate for at least an hour to allow the celery time to crisp & flavors to develop. (well worth this step)
When ready to serve, add hearts of palm and edamame to the celery, add dressing. Shave parmesan onto the celery with a vegetable peeler, then sprinkle with walnuts, salt & pepper. Serve immediately.
Adapted from Kathy Racoosin
Adapted from Kathy Racoosin
Kathy Dishes http://kathydishes.com/