Hello Friends, I am excited to share this quick, easy and tasty clam chowder recipe that I made tonight. The bonus is the chowder is full of flavor without the dairy. I was going to add some cashew cream to my soup but, I forgot I need a new Vitamix 🙁 . Here is my cashew cream recipe if you missed it.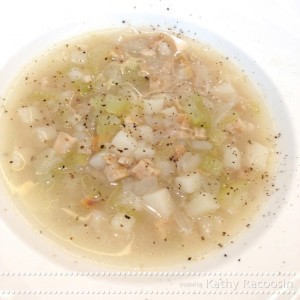 easy clam chowder
2013-05-16 19:37:57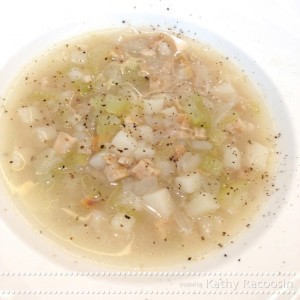 Serves 6
a quick summer supper when it's to hot to eat outside
Ingredients
3 8oz. jars of clam juice
1 container of chopped clams (16oz)
3 medium russet potatoes, diced (read tip about potatoes in the "notes")
3 or 4 stalks of celery, diced
2 medium yellow onions, diced
4 cloves garlic, minced
1 tsp. butter
1 tbsp. oil
1/2 tsp. white pepper
1/8 tsp cayenne pepper
salt to taste
bay leaf - optional
scallions - optional
Instructions
heat the oil and butter in the soup pot. saute onions and celery on medium heat for 10 minutes. (this is a good time to chop your potatoes) add garlic and continue to saute for another few minutes. add clam broth and EQUAL parts of water to pot. bring to boil and reduce heat to medium. add potatoes, pepper, bay leaf & cayenne pepper. cover and simmer for 10 or 15 minutes. remove lid, add clams and simmer for 15 minutes on a medium low heat. remove bay leaf and garnish with scallions.
Notes
after I peel a potato i add it to a bowl of water. after dicing the potato i add the diced potato back to the bowl of water. when i am ready to add to my soup i rinse the diced potatoes & strain them. this method keeps your potato's from turning brown.
Kathy Dishes http://kathydishes.com/