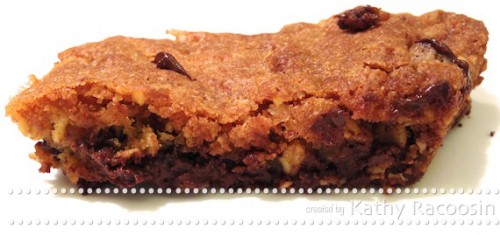 Hello! Just a quick post today. These are my "go to" chocolate chip bars that satisfy most cravings. Have a great week! Hugs, Kathy
P.S. Just want to share this tip. Use a baggie as a glove to spread the cookie dough easily in the pan. Easy clean up too!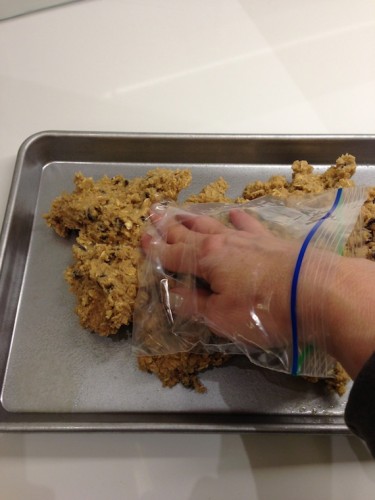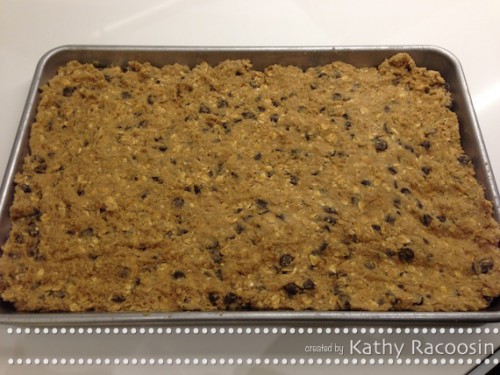 nestle toll house chocolate chip PAN COOKIES
2013-05-09 20:26:48
cookies in a pan is the quickest way to whip up a batch for the kids & their friends
Ingredients
1 1/4 cup whole wheat flour
1 cup oats (not quick cooking oats)
1 tsp baking soda
1 tsp salt
1 cup butter, softened
3/4 cup granulated sugar
3/4 cup packed brown sugar
1 tsp vanilla extract
2 eggs
1 (12oz) packages semi-sweet chocolate chips
Instructions
preheat oven to 375. grease a 15x10-inch jelly roll pan. combine flour, baking soda & salt in a small bowl. beat butter, add both sugars & vanilla in large mixing bowl, continue to beat. add eggs at one time working into the batter. gradually incorporate the flour mixture into the butter mixture. stir in chocolate chips. spread into pan. bake 20-25 minutes until golden brown.
Notes
the whole wheat flour has a very slight after taste but, my family doesn't complain. if you are a white flour kinda person substitue white flour for the whole wheat flour. oat flour is yummy and you might want to try that sometime instead of the whole wheat.
Adapted from from the toll house recipe
Adapted from from the toll house recipe
Kathy Dishes http://kathydishes.com/