The bread is a key ingredient for this sandwich to taste it's best. If I am serving a crowd I might use more meat than I would just for the family.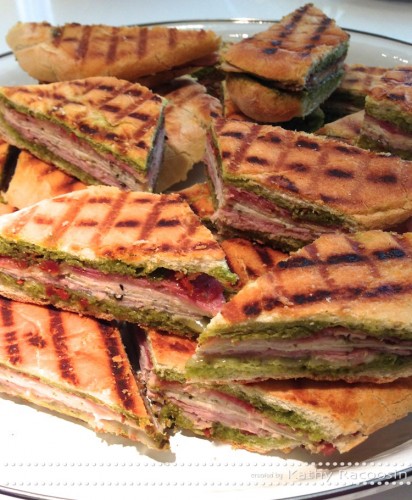 When I made this platter of panini's …. you might notice the pesto spread looks different? You can see some red specs? My husband was sent to the grocery and he came home with a pesto that had tomatoes in it. I wasn't as keen on it but, nobody seemed to notice.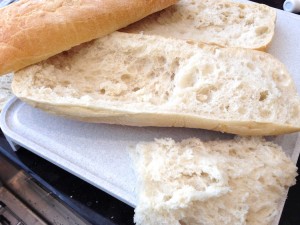 Slice the bread horizontally and scoop out the fluff. (I have done of half of this loaf to show you what I mean about the fluff.) You can see it in the front of the photo.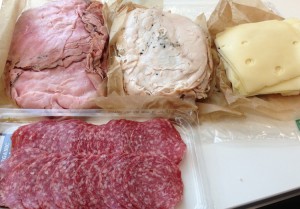 Set out your meats and cheese for some fast layering. If you alternate a few layers of meat the sandwiches look more colorful. ( 3 layers turkey, 3 layers ham, cheese, turkey, repeat- ham, cheese,- and the last layer salami (I usually only do one layer salami)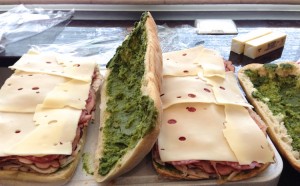 Ok .. so I see in this photo my last layer is cheese lol and you can see I didn't cover every inch of surface on these but, hey…I was making FOUR of these.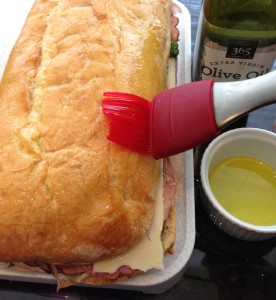 Brush the top with olive oil and if you are making this in a pan you might want to brush the bottom too.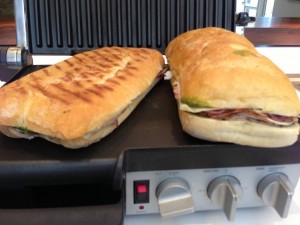 I wanted to show you how it looked before it was compressed. Scroll down for another variation.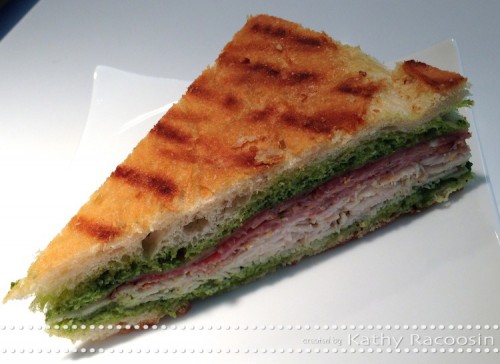 Panini
2013-07-06 15:34:56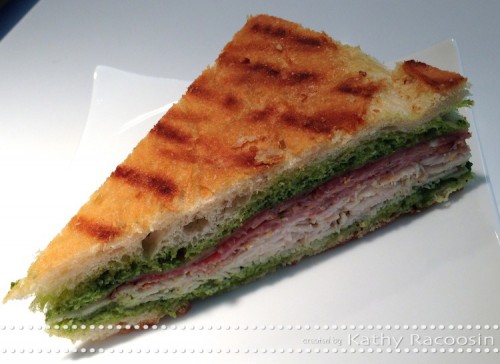 This sandwich is a crowd pleaser & can be served hot or cold.
Ingredients
ciabatta loaf
1/2 lb peppered turkey breast
1/2 lb black forest ham
1/4 lb salami
1/4 lb swiss cheese
4-6 oz. pesto sauce
olive oil
Instructions
cut the loaf of bread horizontally. scoop the fluff out of the ciabatta loaves leaving a shell for the meat. spread the pesto sauce on both pieces of the bread covering every little corner. layer the meat & cheese according to your taste. put the top on and brush with olive oil. place in your panini machine or a skillet. press down with lid or pan to compress sandwich. once cheese is melted & the top is brown remove from heat. cut on the diagonal.
Notes
This sandwich is delicious the next day.
Kathy Dishes http://kathydishes.com/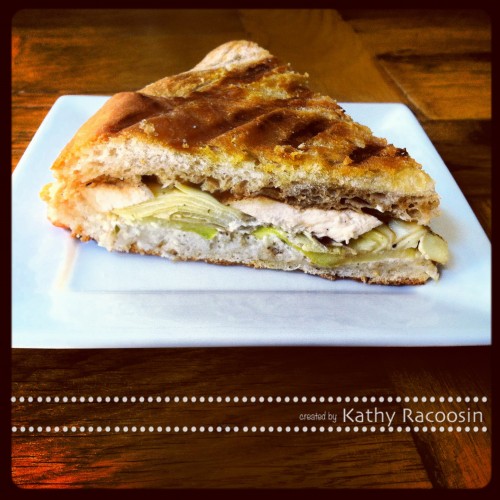 You might find is combination interesting but, trust me it's delicious. Artichoke, chicken and goat cheese is very satisfying. Let me know if you have any questions and I hope you enjoy. Hugs, Kathy