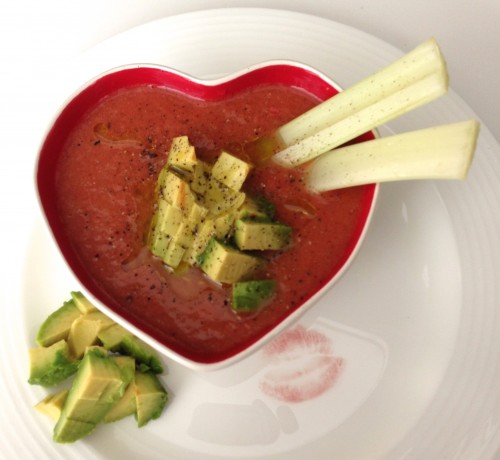 Hey! It's me and I am back with a yummy recipe. This has become a summer favorite in our house and I couldn't resist kissing the plate as a love note of sorts for Mitch. Enjoy your day. Hugs, Kathy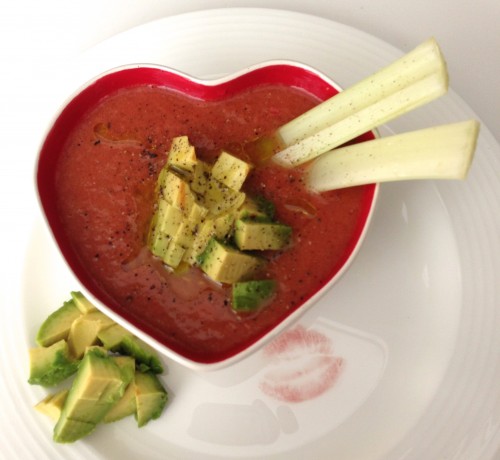 Gazpacho
2013-07-14 19:24:11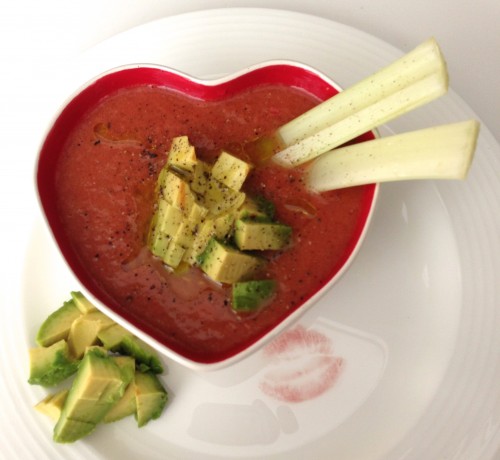 Nothing better than a soup that has a fresh from the garden taste.
Ingredients
3 c. tomato juice fresh or canned
1/3 c. red wine vinegar
4 or 5 lg. tomatoes quartered
2 1/2 c. cucumber, peeled & cut into chunks
1/4 c. olive oil
1 small onion chopped
1 green bell pepper, seeded & quartered
salt & pepper to taste
avocado
Add a jalapeño if you like it spicy.
Instructions
place all ingredients in a vitamix or blender in the order listed. blend to desired consistency.
garnish with diced cucumber & avocado.
Notes
drizzle with a good quality olive oil and a grind of fresh pepper
Adapted from Vitamix Recipes
Kathy Dishes http://kathydishes.com/