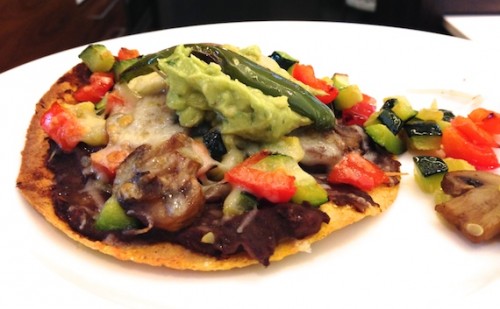 Roasted Vegetable and Refried Bean Tostadas
2014-04-10 11:24:05
a hearty and tasty vegetarian dish sure to please
Ingredients
10 ounces button mushrooms, sliced
2 zucchini, diced
2 red bell peppers, diced
3 tablespoons olive oil
4 corn tortillas
1 15-ounce can refried beans
4 ounces Mexican cheese blend or a cheese of your choice (1 cup)
salsa
1 jalapeño (to taste) (remove seeds & membrane with gloves)
guacamole for garnish
Instructions
Heat oven to 450° F. On a rimmed baking sheet, toss the veggies & jalapeño with 2 tablespoons of the oil & salt to taste. Roast veggies, tossing once until the vegetables are tender, 20 minutes.
Mix 2 tbs of salsa with the refried beans set aside.
Place the tortillas on a baking sheet. Brush with the remaining oil & bake for 5 minutes. Remove from oven. Spread the refried bean mixture on the tortilla, add a generous helping of the veggies and top with the cheese. Bake until the cheese is melted, 5 to 7 minutes. Top with guacamole.
Notes
I used black bean refried beans. Any refried beans will taste equally delicious.
Kathy Dishes http://kathydishes.com/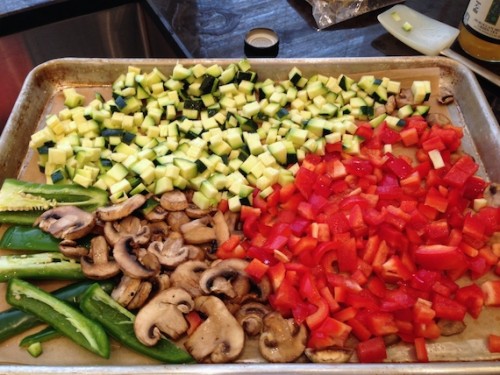 All diced up and ready to go. I was to lazy to dice the mushrooms.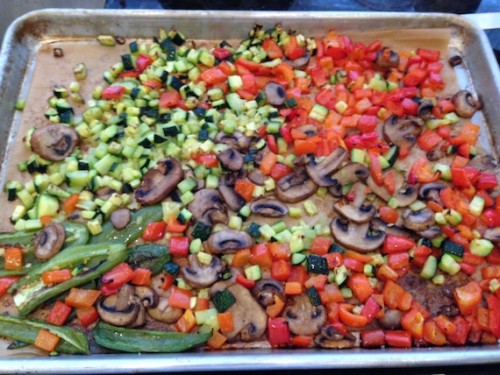 I was shocked how many veggies we consumed tonight but, oh so delicious. I piled high 4 corn tortillas and had a tiny bit of veggies left over that Mitch ate while cleaning up the dishes.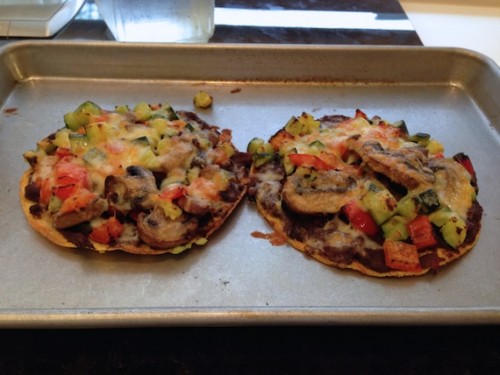 I brushed the corn tortillas with olive oil and baked for 5 minutes (before adding the toppings). The tortillas came out of the oven hard so they could support the refried beans and veggies. If you add a few less veggies this would be a great appetizer sliced like a pizza. See you next time. Hugs, Kathy